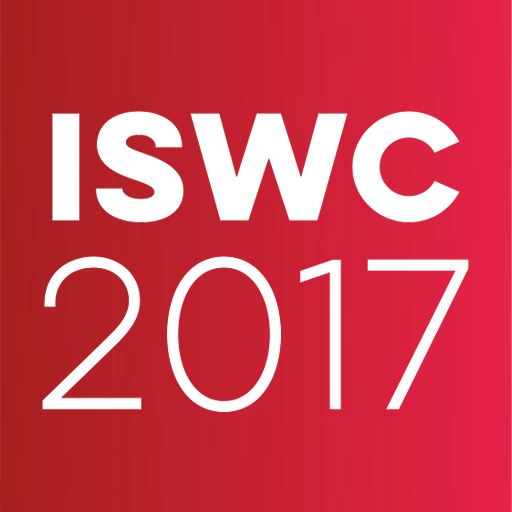 The International Semantic Web Conference (ISWC) is the premier international forum where Semantic Web / Linked Data researchers, practitioners, and industry specialists come together to discuss, advance, and shape the future of semantic technologies on the web, within enterprises and in the context of the public institution.
 We are very pleased to announce that we got 6 papers accepted at ISWC 2017 for presentation at the main conference. Additionally, we also had 6 Posters/Demo papers accepted.
Furthermore, we are happy to win the SWSA Ten-Year Best Paper Award, which recognizes the highest impact papers from the 6th International Semantic Web Conference in Busan, Korea in 2007.
Sören Auer, Christian Bizer, Georgi Kobilarov, Jens Lehmann, Richard Cyganiak, Zachary G. Ives. DBpedia: A Nucleus for a Web of Open Data
Slides: https://www.slideshare.net/soeren1611/dbpedia-10-year-iswc-swsa-best-paper-award-presentation-81098293
Very proud to win the #iswc2017 10 Year Best Paper Award for @dbpedia with @SoerenAuer, Chris Bizer, Georgi Kobilarov, @cygri, Zachary Yves.

— Jens Lehmann (@JLehmann82) October 23, 2017
In addition to this award, we are very happy to announce that we won the Best Demo Award for the SANSA Notebooks:
"The Tale of Sansa Spark" by Ivan Ermilov, Jens Lehmann, Gezim Sejdiu, Buehmann Lorenz, Patrick Westphal, Claus Stadler, Simon Bin, Nilesh Chakraborty, Henning Petzka, Muhammad Saleem, Axel-Cyrille Ngonga Ngomo and Hajira Jabeen.
Best demo #iswc2017 pic.twitter.com/skyGw9YK4v

— iswc2017 (@iswc2017) October 25, 2017
Here are some further pointers in case you want to know more about SANSA:
The audience displayed enthusiasm during the demonstration appreciating the work and asking questions regarding the future of SANSA, technical details and possible synergy with industrial partners and projects. Gezim Sejdiu and Jens Lehmann, who were presenting the demo, were talking 3+ hours non-stop (without even time to eat 😉 ).
Among the other presentations, our colleagues presented the following presentations:
"

Distributed Semantic Analytics using the SANSA Stack

"

by

Jens Lehmann

,

Gezim Sejdiu

,

Lorenz Bühmann

,

Patrick Westphal

,

Claus Stadler

, Ivan Ermilov,

Simon Bin

, Muhammad Saleem, Axel-Cyrille Ngonga Ngomo and

Hajira Jabeen

.




Prof. Dr. Jens Lehmann presented a work done on SANSA project with the main focus on offering a compact scalable engine for the whole Semantic Web Stack. The audience showed a high interest on the project, Room was very packed, a lot of people even standing ; around 150 attendees.

@JLehmann82 presenting @SANSA_Stack, a Semantic Component in the @BigData_Europe Platform solution at #iswc2017. Demo scheduled later! pic.twitter.com/EaFh6iJeQI

— Big Data Europe (@BigData_Europe) October 23, 2017


Website: http://sansa-stack.net/
GitHub: https://github.com/SANSA-Stack
Slides:https://www.slideshare.net/JensLehmann/sansa-iswc-international-semantic-web-conference-2017-talk

"

A Corpus for Complex Question Answering over Knowledge Graphs

" by

Priyansh Trivedi

,

Gaurav Maheshwari

,

Mohnish Dubey

and

Jens Lehmann

.


Priyansh Trivedi presented a LC-QuAD: A corpus for complex question answering over knowledge graphs.

This paper presents a large gold standard Question Answering Dataset over DBpedia, and the accompanying framework to make the dataset. This is the largest QA dataset having 5000 questions, and their corresponding SPARQL query. This paper was nominated for the "

Best Student Paper Award

" in the resource track.

Talk by @ekandekha_comma at #iswc2017 on new 5000 question QA dataset with high variety and varying complexity: https://t.co/8P4pcub0nZ pic.twitter.com/mm0jAQ09He

— Jens Lehmann (@JLehmann82) October 24, 2017

Website: http://lc-quad.sda.tech/
GitHub: https://github.com/AskNowQA/LC-QuAD
Slides: https://docs.google.com/presentation/d/1pez_PK_NEDaZWf_N4gmqCkL_fT_JDibrAu4EBvdN_lU/edit#

"

Iguana : A Generic Framework for Benchmarking the Read-Write Performance of Triple Stores

" by Felix Conrads,

Jens Lehmann

, Axel-Cyrille Ngonga Ngomo, Muhammad Saleem and Mohamed Morsey.




Felix Conrads presented his work about IGUANA, a benchmark system for measuring the read/write performance over Triple Stores. The framework allows to run stress tests and was created in collaboration with the

DICE group

.

Felix presents IGUANA, the Triple store r/w performance benchmarking framework #iswc2017 @hobbit_project pic.twitter.com/cJOBdGivSm

— Priyansh (@ekandekha_comma) October 25, 2017

Website: http://iguana-benchmark.eu
Github: https://github.com/dice-group/IGUANA

"

Sustainable Linked Data generation: the case of DBpedia

" by Wouter Maroy, Anastasia Dimou, Dimitris Kontokostas, Ben De Meester,

Jens Lehmann

, Erik Mannens and Sebastian Hellmann.




In this work, in which we collaborated with the University of Ghent and InfAI Leipzig, we propose complex extraction workflows based on RML. As a major use case, they will be the base for the DBpedia Information Extraction Framework, which will become more declarative and easier to update.

.@dbpedia is making the switch to @rml_io #ISWC2017 pic.twitter.com/RVA1A4L3VI

— Pieter Heyvaert (@PHaDventure) October 23, 2017

"Diefficiency Metrics: Measuring the Continuous Efficiency of Query Processing Approaches" by

Maribel Acosta

(KIT), Maria-Esther Vidal,

York Sure-Vetter

(KIT).




Maribel Acosta presented two experimental metrics related to the so called "dieffency" in incremental query answering. Those metrics allow to better capture the behavior of incremental SPARQL query processors compared to standard metrics, which often measure when the first query result arrives, the last query result arrives and the throughput in between. The metrics generalise to any method that produces results incrementally. This paper was nominated for the "

Best Paper Award" at the Resource Track.


Here some pointers:
Workshops
ISWC17 was a great venue to meet the community, create new connections, talk about current research challenges, share ideas and settle new collaborations. We look forward to the next ISWC conference.
Until then, meet us at SDA !