SLIPO, a new project within the EU's "Horizon 2020" framework program, kicked-off in Athens, Greece on 18th and 20th of January 2017. 
The main goal of SLIPO is to transfer the research output generated in our previous project GeoKnow to the specific challenges of POI data. In SLIPO we introduce validated and cost-effective innovations across the POI value chain. Beyond that, we are aiming to improve the scalability of our key research frameworks, such as LinkedGeoData, DL-Learner or LIMES.
Our partners in this project are:
Find out more at http://sda.tech/projects/slipo/.
This project has received funding from the European Union's H2020 research and innovation action program under grant agreement number 688227.

Afterward, on 1st and 2nd February on Athens, Grece the HOBBIT project successfully held its 3rd plenary meeting at NCSR_Demokritos premises.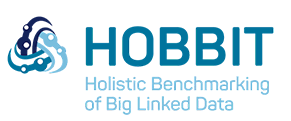 Every one of the project's work packages presented their recent progress and important discussion was held on the upcoming release of the first version of the platform. Furthermore, the project is quickly approaching the realization of its accompanying challenges at the ESWC and DEBS conference, for which technical and organizational agreements were made.
More information on the upcoming challenges can be found under https://project-hobbit.eu/challenges .