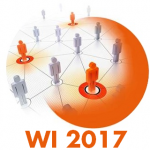 We are very pleased to announce that our group got a paper accepted for presentation at The International Conference on Web Intelligence (WI), which will be held in Leipzig between the 23th – 26th of August. The WI is an important international forum for research advances in theories and methods usually associated with Collective Intelligence, Data Science, Human-Centric Computing, Knowledge Management, and Network Science.
"LOG4MEX: A Library to Export Machine Learning Experiments" by Diego Esteves, Diego Moussallem, Tommaso Soru, Ciro Baron Neto, Jens Lehmann, Axel-Cyrille Ngonga Ngomo and Julio Cesar Duarte.
Abstract: A choice of the best computational solution for a particular task is increasingly reliant on experimentation. Even though experiments are often described through text, tables, and figures, their descriptions are often incomplete or confusing. Thus, researchers often have to perform lengthy web searches for reproducing and understanding the results. In order to minimize this gap, vocabularies and ontologies have been proposed for representing data mining and machine learning (ML) experiments. However, we still lack proper tools to export properly these metadata. To this end, we present an open-source library dubbed LOG4MEX which aims at supporting the scientific community to fulfill this gap.
Acknowledgments
This work is supported by the European Union's H2020 research and innovation action HOBBIT (GA no. 688227) and the European Union's H2020 research and innovation program BigDataEurope. (GA no.644564).
Looking forward to seeing you at WI 2017. More information on the program can be found here.