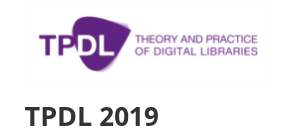 We are very pleased to announce that our group got a paper accepted in TPDL 2019 (23nd International Conference on Theory and Practice of Digital Libraries) , which will be held on September 9-12, 2019, OsloMet – Oslo Metropolitan University, Oslo, Norway.
The TPDL is is a well-established scientific and technical forum on the broad topic of digital libraries, bringing together researchers, developers, content providers and users in digital libraries and digital content management. 
TPDL 2019 attempts to facilitate establishing connections and convergences between diverse research communities such as Digital Humanities, Information Sciences and others that could benefit from (and contribute to) ecosystems offered by digital libraries and repositories. To become especially useful to the diverse research and practitioner communities digital libraries need to consider special needs and requirements for effective data utilization, management, and exploitation. 
Here is the pre-print of the accepted paper with its abstract:
Abstract: Recently, semantic data have become more distributed. Available datasets increasingly serve non-technical as well as technical audience. This is also the case with our EVENTSKG dataset, a comprehensive knowledge graph about scientific events, which serves the entire scientific and library community. A common way to query such data is via SPARQL queries. Non-technical users, however, have difficulties with writing SPARQL queries, because it is a time-consuming and error-prone task, and it requires some expert knowledge. This opens the way to natural language interfaces to tackle this problem by making semantic data more accessible to a wider audience, i.e., not restricted to experts. In this work, we present SPARQL-AG, a front-end that automatically generates and executes SPARQL queries for querying EVENT-SKG. SPARQL-AG helps potential semantic data consumers, including non-experts and experts, by generating SPARQL queries, ranging from simple to complex ones, using an interactive web interface. The eminent feature of SPARQL-AG is that users neither need to know the schema of the knowledge graph being queried nor to learn the SPARQL syntax , as SPARQL-AG offers them a familiar and intuitive interface for query generation and execution. It maintains separate clients to query three public SPARQL endpoints when asking for particular entities. The service is publicly available online and has been extensively tested.
Furthermore, we got a poster paper accepted at the Poster & Demo Track.
Here is the list of the accepted poster paper with its abstract:
Abstract: In this work, we tackle the problem of generating comprehensive overviews of research findings in a structured and comparable way. To bring structure to such information and thus to enable researchers to, e.g., explore domain overviews, we present an approach for automatic unveiling of realm overviews for research artifacts (Aurora), an approach to generate overviews of research domains and their relevant artifacts. Aurora is a semi-automatic crowd-sourcing workflow that captures such information into the OpenResearch.org semantic wiki. Our evaluation confirms that Aurora, when compared to the current manual approach, reduces the effort for researchers to compile and read survey papers.
Acknowledgment
This work was co-funded by the European Research Council for the project ScienceGRAPH (Grant agreement ID: 819536).
Looking forward to seeing you at The TPDL 2019.