Dr. Hajira Jabeen left SDA. The profile below reflects the status at the point of her departure and is no longer updated.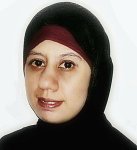 Senior Researcher
Computer Science Institute
University of Bonn
Profiles: LinkedIn, Google Scholar, DBLP
Room 1.066
Endenicher Allee 19a, 53117 Bonn
University of Bonn, Computer Science
jabeen@iai.uni-bonn.de
Short CV
---
Dr. Hajira Jabeen is a Senior Researcher at the University of Bonn. She received her PhD degree in computer Science from National University of Computing and Emerging Sciences, Islamabad, Pakistan.
Her research interests includes Big Data Artificial Intelligence, Evolutionary Computation, Semantic Web, Data Mining and Machine Learning.
Research Interests
---
Big Data
Data Mining and Data Analysis
Semantic Web
Machine Learning
Publications
2010
2009
Opposition based initialization in particle swarm optimization (O-PSO) Inproceedings
In: Genetic and Evolutionary Computation Conference, GECCO 2009, Proceedings, Montreal, Québec, Canada, July 8-12, 2009, Companion Material, pp. 2047–2052, ACM, 2009.